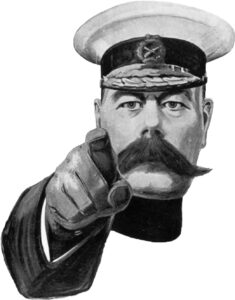 Football and the First World War is a not-for-profit research website dedicated to building the most comprehensive online record of association football during World War One. From launch in 2013, it was of paramount importance that all website content and research be available to everybody – free from charge or subscription cost. The site has grown exponentially since then, however, the commitment to keeping its content free to access remains as important today as it was at the outset. 
With a site re-brand recently completed, and some new and significant areas of research soon to be introduced, I am now excited to be able to offer the chance to officially support the project through Buy Me a Coffee and get access to a some exclusive benefits that are unavailable elsewhere.
These benefits include this stunning digitally-remastered A3 print of the iconic recruitment poster for the 17th (Service) Battalion, Duke of Cambridge's Own (Middlesex Regiment) – the famous Footballers' Battalion. This print is only available through my Buy Me a Coffee page and costs just £10 with free UK postage.
As the website and all associated research costs are currently self-funded by the author, any contribution, however big or small, will not only be incredibly appreciated but also make a huge difference and help ensure the continued sustainability of the website. Your personal commitment will also open up ever more channels of research and offer an exciting opportunity to build on the work that has already been published.
All funding will go directly back into the website.
I have been overwhelmed by the support received since launching the website and look forward to continuing the work in the future. With your help, I will continue to build the most comprehensive digital record of association football during the Great War available and create a lasting legacy that is accessible to everybody without subscription fees and commercial advertisement.
If you would like to offer your support, no matter how big or small, you can do so by visiting my Buy Me a Coffee page here .  You can also purchase the Footballers' Battalion print here for £10.
As always, thank you for your support!
IM