---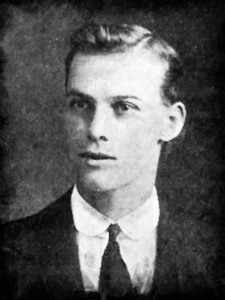 George E. Ford (1891-unknown) was born in 1891 in Woolwich, London and played at full-back for Arsenal Football Club. During World War One, Ford served in the Footballers' Battalion and was injured during the Battle of the Somme in 1916.
Football Career
George Ford began his career at Gravesend United before moving to West Kent League side Dartford in 1910. Two years later, he joined Arsenal as an amateur before signing professional terms at the Manor Ground in November 1912. He then made his senior debut for Arsenal in a 1-1 home draw against Liverpool on 28 December 1912, after which he featured in two heavy defeats to Sunderland and Bolton Wanderers in the first week of January.
Ford played no further part in the 1912/13 season and would have to wait until the 1914/15 season to make his next appearance for the Gunners; in a 1-0 loss at Barnsley on New Years Day 1915. Ford would play five further league games and one FA Cup match that season, before official competition was suspended for the duration of the First World War.
First World War Service
Private F/45 Ford joined the 17th (Service) Battalion of the Middlesex Regiment (1st Football) in December 1914, after which he underwent training while playing for Arsenal for the remainder of the 1914/15 season. After spending time at Cranleigh in Surrey and Clipstone Camp near Mansfield, Ford moved to Perham Down with his battalion in August 1915 where they prepared for deployment overseas. The 17th Middlesex subsequently landed at the French port of Boulogne on 17 November 1915 and would experience its first taste of life in the trenches near the mining town of Loos.
The battalion took part in its first offensive action near Souchez in the Spring of 1916, before suffering heavy losses at Delville Wood and Guillemont during the opening two months of the Battle of the Somme. On 13 November 1916, they were involved in an attack on a German strongpoint south of Serre called the Quadrilateral, where the now-Coporal Ford was wounded in his left arm. After being evacuated from the front, Ford eventually returned to Britain where he was medically discharged from the Army on 10 October 1917. He would subsequently struggle to fully-recover from his injury and was to play no further part in professional football.
---
COMPLETE CAREER STATISTICAL RECORD
---
Season
Club
League Position
FA Cup
League Games
League Goals
FA Cup Games
FA Cup Goals
1912/13
Arsenal
20th (First Division) (R)
R2
3
1914/15
Arsenal
5th (Second Division)
R2
6
1
Summary
Total
9
1
---
A full list of sources used to create this page can be found here.
---